Winter weather causing your skin to feel dry or look dull? Not to worry! I am constantly hearing about new brands and products to try to calm my Winter skincare woes, but with so much out there it's hard to know what to try. So, to simplify the process for all of y'all this season, I have put together a few of my favorites that have proven their worth! Show your Winter skin who is BOSS and check out all of my skincare recommendations to transform your skin from lackluster to luminous just in time for Spring!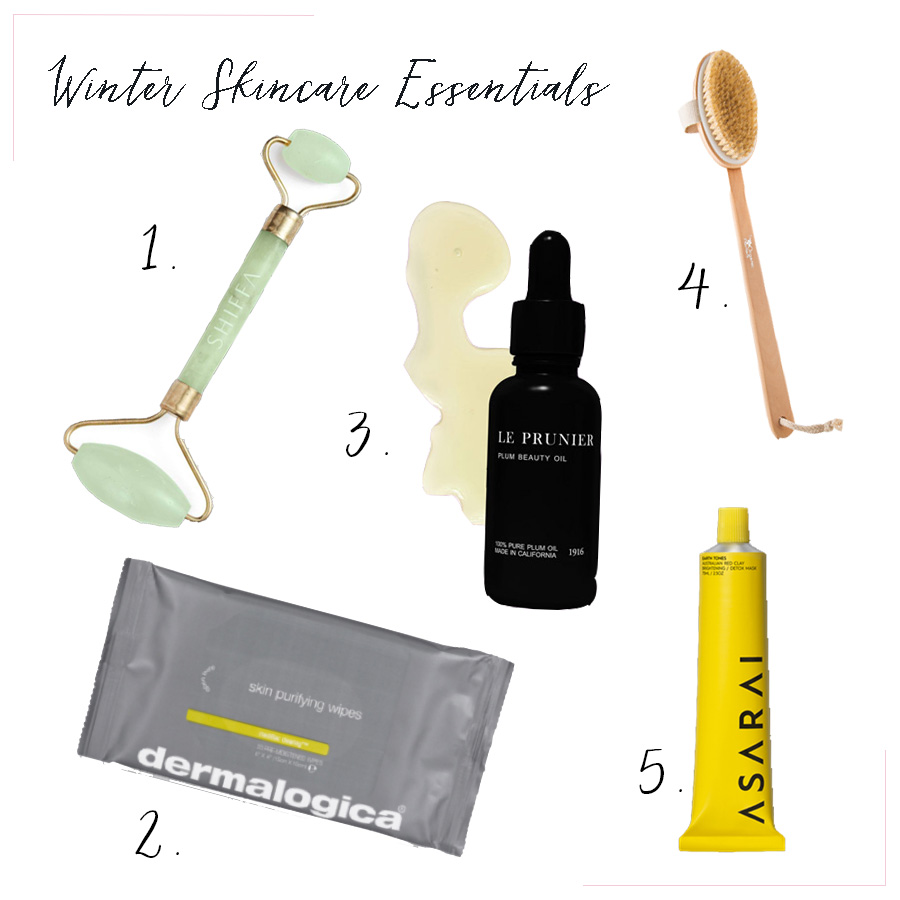 1. Shiffa Jade Facial Roller – I am sure y'all have heard all about the facial roller skincare craze by now but I am FINALLY jumping on the bandwagon! Better late than never right? 😉 So what makes facial rollers so great? 1. They stimulate blood circulation and 2. Help with lymphatic drainage. Sign me up!
2. Dermalogica Skin Purifying Wipes – As many of y'all already know, I am a HUGE Dermalogica fan! Their purifying face wipes have quickly become a new favorite of mine, especially when I am on-the-go or traveling- these babies really come in handy! These wipes help quickly remove excess oils to keep skin clean and fresh and the Salicylic Acid stimulates natural exfoliation, helping to clear impacted follicles and minimize breakouts. Definitely a MUST for an easy, quick clean-up!
3. Le Prunier Plum Beauty Oil – We've gone Plum people! This beauty oil is an anti-aging, multi-purpose oil that balances, restores and refreshes the skin. This little miracle in a bottle works on all skin types and helps calm irritation and seal-in moisture without clogging pores. Your dry Winter skin will soak this nourishing oil right up and leave your skin feeling super soft and healthy-looking!
4. The Organic Pharmacy Skin Brush – So, this seems pretty basic, but using a dry brush daily can actually have SO many major benefits for your entire body. Use this natural-bristle brush when you wake up for an instant energy boost! Designed to use all over your body, dry brushing is a total skincare game changer. So if you want to shed dead skin and have brighter, smoother-looking skin then you will definitely want to add this to your skincare line-up!
5. Asarai Earth Tones Mask – Last, but certainly not least is one of my new favorite brands Asarai! This mask will instantly improve your skin's appearance with the therapeutic healing properties of a unique Red Clay formula derived from Australia's pristine outback. The Earth Tones Mask will purify, detoxify, and brighten your naturally pure complexion. What else could a girl ask for?
So there they are! My top 5 Skincare Essentials that have helped my skin make it through this Winter Season. I hope they help you as much as they have helped me! Until next time babes!
xo,
Becca